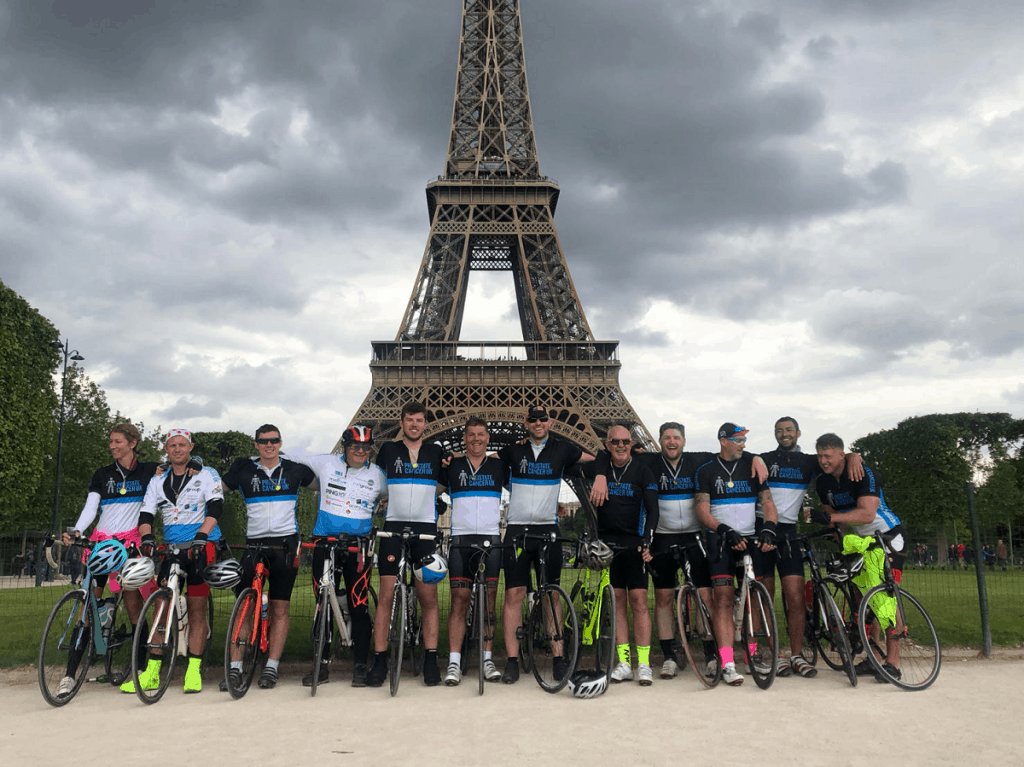 12 cyclists from Bourne End-based Everyday Loans Group recently bid 'au revoir' to family, friends and colleagues in Buckinghamshire and set off on a 350-mile charity bike ride to Paris - raising £9,700 for Prostate Cancer UK along the way.
Over five days, the Lycra-clad crew travelled through English countryside to Dover where it boarded a Calais-bound ferry. Upon arrival in the port, the team hit the 182 miles of French roads, hills and beautiful countryside from Pas de Calais and through Picardy to Paris - the final destination and finishing line being the most iconic Parisian landmark of all, the Eiffel Tower.
Not to miss out on the experience and fundraising opportunity back at home, in both of Everyday Loans' Bourne End offices, colleagues took part in The Big Team Cycle Along. Here teams competed against each other on exercise bikes to clock up the most miles for the duration of the five-day ride.
Everyday Loans' Andrew Wayland, who completed the French fundraising feat, said: "Cycling 350 miles over five days was a challenge for everyone who took part - both mentally and physically – but we are delighted that we all made it, whilst raising a staggering £9,700 for Prostate Cancer UK.
"As our chosen charity for the year, it's a cause that's very close to our hearts and we are very pleased indeed that we've been able to raise such a sizeable sum that will go towards funding research into prostate cancer. More than 40,000 men are diagnosed with it every year in England and more than 9000 die from it – that's one every 45 minutes.
"So, on behalf of everyone who took part – out on the road and back in the offices as part of The Big Team Cycle Along – I'd like to thank all those who have donated and helped us to hit our target. It's an achievement that we should all be proud of."
Everyday Loans' Bourne End to Paris charity bike ride follows the success of the lender's Manchester Remembrance Ride last year, which raised £4,700 for the Manchester Emergency Fund - the charity set up to help people affected by the Manchester Arena attack.
Anyone who would like to donate can still do so here.
Everyday Loans is the UK's largest non-standard branch-based lender of unsecured loans and part of NSF Group plc. It has over 66,000 customers and 72 branches across the UK.
For further information on Everyday Loans, visit https://www.everyday-loans.co.uk/ or call 0808 231 5453. Follow on Facebook and Twitter @everydayloans.
Ends/
For further media information please contact Sue Souter or Karen Winstanley on (t) 01625 839319 or email sue@souterpr.co.uk / karen@souterpr.co.uk
About Everyday Loans
Everyday Lending Limited was established in 2006. It's an independent lender owned by Non Standard Finance PLC. The company is committed to professional, responsible lending. Please visit www.nonstandardfinance.com for more information on its parent company.