Are you Self-Employed or Sub-Contracting?
Perhaps a Sole Trader, Freelancer, Partner or Company Director? Need a loan to help your business grow like buying a new/additional vehicle or equipment? If you have been self-employed for two or more years, we'd be happy to talk to you, even if your finances have taken a bump or two along the way.
Sub-contracting? Still no problem, so if you have been subcontracting for any period of time don't hesitate to contact us we may still be able to help
Try Our Selfy Loan - A Self-Employed Loan just For You
Maybe Selfy Loans can help. We are a direct loan lender that specialises in assisting self-employed people like you, so if you've had problems in the past there is a chance we can help you. With our SELFY loan we may also be able to help you if you have not yet generated sufficient trading history to be accepted by other lenders. We are here so why not contact us now and we can lead you through the process to a brighter future.
Apply Now
Three

Simple Steps
Complete our short application form.

We'll give you a conditional decision in minutes.

Pop into your local branch to complete your loan.
Three

Great Benefits
We won't charge you a fee to consider your application.

We are a direct lender, we lend you the money.

Friendly face-to-face service - we like to meet.
What can I use my Selfy Loan for?
You can use the money for any personal use, for example, home improvements, a wedding, personal debt consolidation, a car etc. While we do not offer business loans, we are happy to lend for some purposes that may help you develop your business. Here are some examples of what you could use your personal loan for:
Buy a new van/vehicle
Buy tools
Buy equipment
Professional qualifications
To pay your annual personal tax liability
Buy stock/new start-up
Consolidate business debts
Pay off business bank overdraft
Provide your business with a cash injection
Please note, the Selfy Loan must be in your name and the proceeds will be paid into your personal bank account.
Apply Now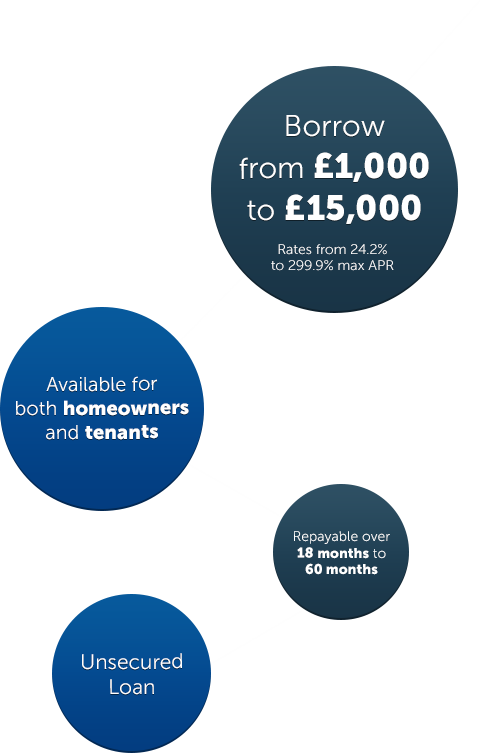 Do I match the criteria for a Selfy Loan?
You'll need to be aged over 21
Have been self-employed more than 2 years
Earn a minimum gross income: £10,000 per annum (Single or Joint)
No Commission only sales agents
Not been declared bankrupt
You don't have a Debt Management Arrangement or IVA
A mandatory Direct Debit
Apply Now
How does it work?
Complete the simple application form by clicking the apply now button. You will be given a conditional decision within minutes. We'll then call you to complete the application. As a responsible lender we will assess your income to ensure you can afford to repay the amount you borrow. There are different ways that you can show us what you earn.
Apply
Online

3 simple steps
using our online form

Affordability & Business
Checks

We'll check you
can afford repayments

Sign Your
Loan Agreement

Visit a branch to discuss
and process application

Money Is
Transferred

Sign before 8.30pm and
money is transferred same day
Options for showing your income
I do not have an Accountant:
The quickest and simplest way for you to show us what you earn is to provide your last 2 years self assesment tax calcualtions (SA302) accompanied by your tax year overview that you would have received from HMRC.
If you file your returns online then both are available to download immediately from your online HMRC account. We would also like to see your last 2 business related bank statements (dated in the last 60 days). If you submit paper returns, then you can provide your last 2 years SA302 sent to you by HMRC. (Copies can be obtained by contacting the HMRC helpdesk) again with the last 2 business related bank statements. If you do not have self-assessments available we may still be able to help you. Contact your local branch who may be able to assist.
I have an Accountant:
If you have an accountant that holds a recognised qualification then they can:
Complete our straightforward Accountants certificate (click here to download).
Provide your last accounts.
Provide your 2 year annual tax calculations (SA302) and tax year overviews sent by HMRC.
I am a sub contractor:
No problem we can still help. You will need to provide your last 2 months payslips or last 2 months bank statements (dated in the last 60 days) that show your income being credited.