Soft Search Loans
We use soft credit searching when you apply for a loan with us, this doesn't leave a negative mark on your credit file if you are unsuccessful.
Representative Example: Borrowing £3,000 over 24 months at an interest rate of 71.3% p.a. (fixed), you will repay 24 monthly payments of £237.75 per month. Interest Payable £2,706. Total Repayable £5,706. Representative 99.9% APR.
Loans are subject to status and affordability. Terms and conditions apply.
Don't just take our word for it!
Everyday Loans for everyday people
Traditionally, applying for a loan can leave a mark on your credit file, which can potentially damage your credit rating. This is why Everyday Loans uses soft search technology. With a soft credit search, only you can see the search, so you can apply for financing from us without affecting your credit.
Some lenders simply run a hard credit search when you apply for a loan. This can stay on your credit history for years. That can be a problem if you are shopping around for a loan because multiple hard searches can look bad on your credit score.
We will only run a hard credit check if you accept our loan offer. That means you can compare prices, find the best deal and worry less about your credit report.
How it all works
With Everyday Loans, you're more than just your credit score. We look at your current finances alongside your credit future, not just your credit history. That allows us to work with people who have had bad credit problems in the past.
There are 3 simple steps to taking out an everyday loans loan. All of our loans are subject to status and affordability.
Complete our online application form

Get an initial decision in minutes

Pop into your local branch to complete your loan
All of our loans are subject to status and affordability.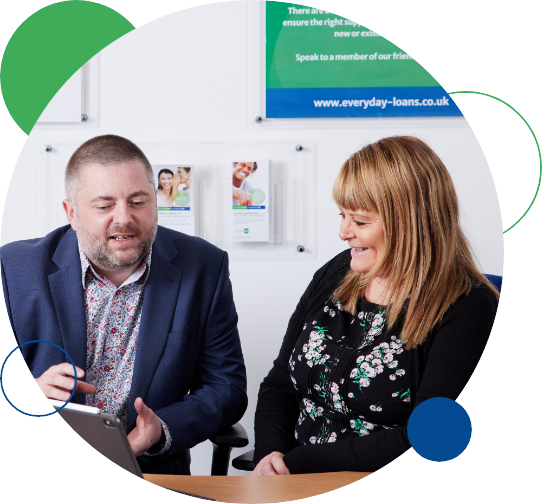 Why choose Everyday Loans?
Applying with us won't affect your credit score. We use Soft Searching Technology, which means that even if your application is declined, it won't show on your credit file. We only conduct a hard search during a full application for credit.
Lending to people with bad credit is our speciality. You'll need to be over 18, a UK resident and be able to afford repayments.
We're a direct lender, not a broker. We'll NEVER charge you a fee to consider your application.
We'll give you a conditional decision in just minutes.
We can lend from £1,000 up to £15,000 for 18 to 60 months. Loans not for business, gambling or illegal purposes. Maximum APR 299.8%
If you are worried about your credit being affected by multiple hard searches, our soft search technology will put your mind at ease. We do not run a hard search on your credit when you submit your application. We only use a hard search after you accept a loan offer. That means you can see the loan offer, costs and all the details of your new loan before it ever affects your credit.
Our soft search application process is perfect for people who like to shop around or for people with bad credit. In fact, we specialise in helping people who are struggling with poor credit. We can offer loans from £1,000 to £15,000 with terms of 18 months all the way up to 5 years.
To see if you qualify for a loan, simply fill out our online application. It only takes a few minutes, and you will receive a conditional decision at the end of the process.
If we are able to provide conditional approval, we will set up a meeting at one of our local branches. At the meeting, we will review some information to help us ensure the loan is affordable and finalise your options. Once we have final approval, your loan can be available in as little as 24 to 48 hours.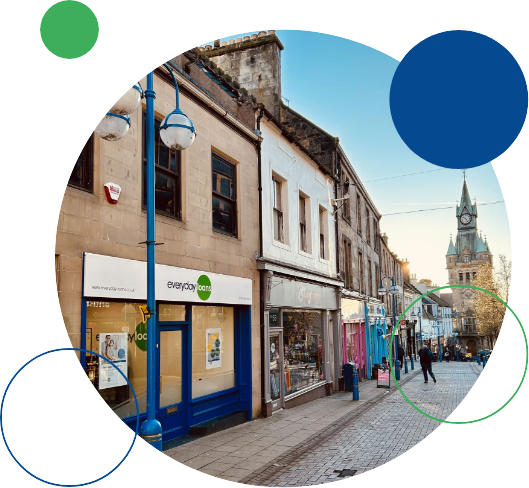 Tailored Local Lending
Our local branches are staffed by a team of experts ready to help you. By including a face-to-face meeting as part of our lending process, we can look at more than just your credit history. We can also take into account how you manage money, your financial obligations and your unique circumstances. This allows us to offer loans to a wider variety of customers than lenders that rely on automated credit scoring.
In the meeting, we will determine if we can provide you with a final loan offer. If so, we will explain the specifics of the loan and go through all the paperwork with you.
Responsible Lending
Everyday Loans is committed to responsible lending for all of our customers. We strive to be honest and fair to potential clients while working to ensure customers' loans and data are safe and secure.
To achieve these goals, we meet with all of our customers to discuss potential loans. At the meeting, we explain the terms of the agreement and complete a full assessment of each person's financial situation. All of our customer data is stored securely and processed in line with UK GDPR and DPA regulations.
We ask all of our customers to provide the most accurate information possible. We have also prepared a glossary of terms to help explain some of the more complicated terminology involved in lending, such as APR and credit score. However, we will also answer any questions you have in the meeting.
We always ask customers to let us know if their situation changes. For example, if a customer loses their job and is struggling to make payments, we can work together to provide appropriate support in managing their account.
If you are interested in applying for a loan where the application doesn't negatively impact your credit score, our soft score application process is designed for you. Apply online using our application form.
What is a soft credit search?
A soft search is a method lenders use to learn about potential customers. Soft searches let Everyday Loans see some of the financial information in a credit report, which helps us decide whether you are eligible for a loan. Unlike a hard search, soft searches are not visible to other lenders on your credit history. Only you can see them. That means they do not affect your credit score.
This is very important because too many hard searches can limit your chances of getting a loan.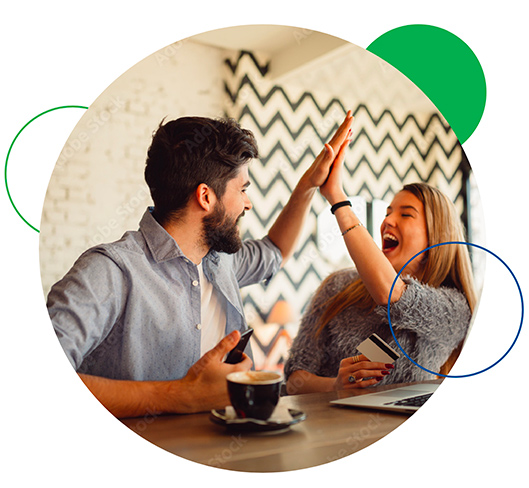 How does soft search work?
Soft searches are used by some lenders, brokers and comparison sites. They provide some information about you, your finances and your credit history. The information provided in a soft search comes from 1 or more of the 3 major credit bureaus. These are Experian, TransUnion and Equifax.
Soft searches help businesses understand if you will be eligible for any of their loan products. The idea is to use a soft search first rather than running a hard search which can hurt your credit score.
If you are interested in applying for a loan with Everyday Loans, we will run a soft search after you fill out our online application form. This gives us enough information to give you a conditional decision. If conditionally accepted, we will arrange a meeting at your local branch to review your application further.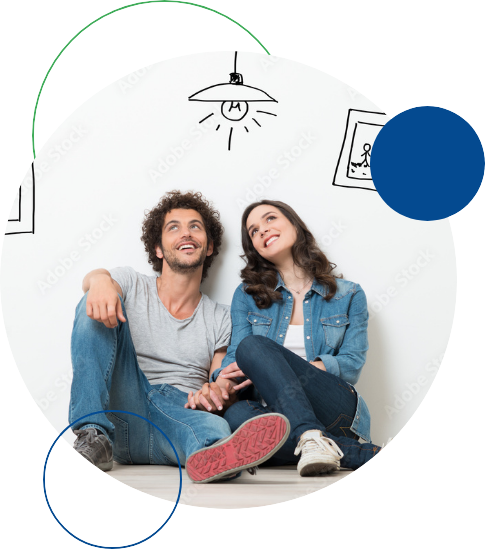 What do I need to check to know if I am eligible for a loan?
The first thing you should check is the general requirements of the lender. Everyday Loans have 3 basic requirements. Our customers must be 18 or over, we only lend to UK residents, and all customers must be able to afford their repayments.
If you meet these general requirements, the next thing to do is fill out our application form. We will run a soft search on your credit and provide you with a conditional decision. This will tell you whether you may be eligible for one of our loans.
Can I get pre-approved for a loan with bad credit?
At Everyday Loans, we offer something called conditional approval. If we give you conditional approval, you will still need to meet with us and provide some more information before we can give you a final loan offer.
Once you fill out our application form, we can run a soft search on your credit. Depending on the results, we can provide a conditional decision on your loan application.
At this point, we would invite you to a meeting at your nearest local branch to discuss lending options.
Frequently Asked Questions
In this section, we answer some of the most commonly asked questions surrounding our loans. Our goal is to provide all the information you need so you can feel confident in your financial decisions.
If you have any questions we have not answered in the below section, contact us, and we will help in any way we can.
A hard credit search or check is when a company does a complete search of your credit report. Essentially they get to see everything that a credit reference agency has in terms of data on you. This is in contrast to a soft credit check which just shows a fraction of the data a credit granting agency has about you.

A hard credit search is also visible on your credit history. That means a company that runs a hard check can see if you have had a lot of other hard searches run recently. A soft credit check is only visible to you.

Every lender has different criteria, but in general, things like your credit score and credit history, your income, existing debts and the potential term of your loan are all considered.

Your income, existing debts/expenses and the loan term help a company understand if you will be able to afford the repayments on a loan.

This is a very simple explanation, but it helps to flesh out the most common factors that go into a lender's decision-making process.

If you have been refused a loan, it could be for a number of reasons. You may not meet the minimum criteria of the lender. This information is usually provided on a lender's website so you can check that easily.

If that is not the cause of the rejection, it could be an issue with your credit score. You can check your credit history and score with the 3 main credit- reference agencies. If you have low credit, you may want to look into a bad credit lender like Everyday Loans. There could also be a mistake in your credit history that is causing you to be declined. If you find a mistake, you can contact the credit agency and ask for it to be corrected.

If your credit is simply too low to be considered for a loan, you may need to speak with a financial advisor about how you can work to improve your credit score.