Wedding Loans
If you need a loan for your wedding, Everyday Loans may be able to help. We are a UK-based lender that specialises in working with people with bad credit.
Representative Example: Borrowing £3,000 over 24 months at an interest rate of 71.3% p.a. (fixed), you will repay 24 monthly payments of £237.75 per month. Interest Payable £2,706. Total Repayable £5,706. Representative 99.9% APR.
Loans are subject to status and affordability. Terms and conditions apply.
Don't just take our word for it!
Everyday Loans for everyday people
Your wedding is one of the most important days of your life, and you want it to be perfect. Unfortunately, weddings can come with unexpected costs. For example, last-minute cancellations from a venue or caterer can leave you suddenly needing more than you expected. Our unsecured loans can help you spread the cost of your wedding without sacrificing what is important.
If you are looking for a loan for your wedding, we may be able to help. At Everyday Loans, we pride ourselves on our quality lending options. We can offer loans from £1,000 to £15,000 over 18 to 60 months. Plus, our simple online application only takes a couple of minutes, after which we can provide an online conditional decision.
Our application process also uses soft search technology, which means your application will not impact your credit score. We can lend to people with bad credit, so past credit issues do not have to prevent you from covering any of the costs for your big day.
How it all works
At Everyday Loans, you're not viewed only by your credit rating. We consider your current financial situation and take into account a number of factors when we are considering lending you money.
Obtaining a loan with us involves 3 steps. Please note, all of our loans depend on status and affordability.
Complete our online application form

Get an initial decision in minutes

Pop into your local branch to complete your loan
All of our loans are subject to status and affordability.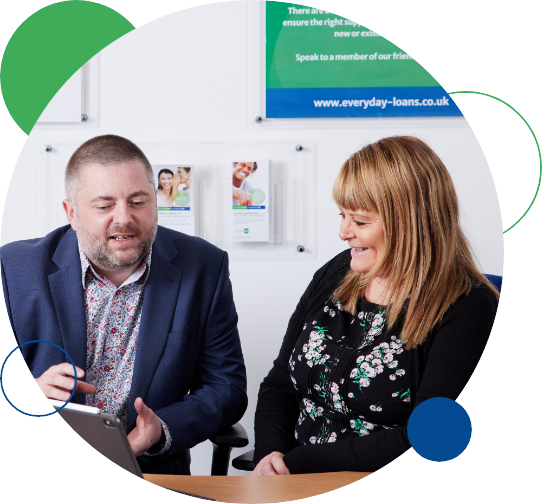 Why choose Everyday Loans?
Applying with us won't affect your credit score. We use Soft Searching Technology, which means if you're unsuccessful it won't go against your credit file. We only conduct a hard search during a full application for credit.
We offer loans to those with a less-than-perfect credit score. You'll need to be over 18, a UK resident and be able to afford repayments.
We're a direct lender, not a broker. We'll NEVER charge you a fee to consider your application.
We'll give you a conditional decision in just minutes.
Our loans range from £1,000 up to £15,000 over 18 to 60 months. They can be used for almost any purpose. Loans not for business, gambling or illegal purposes. Maximum APR 299.8%
Our loans for weddings are a versatile financial solution tailored to make your dream wedding a reality! Whether you're planning a grand celebration or an intimate affair, our loans are here to support you every step of the way. From reserving the perfect venue to choosing the most exquisite decorations, our loans can cover all your wedding-related expenses.
To start your application for one of our wedding loans, simply click the "Apply Now" button at the top of your screen. Our application process is quick and hassle-free, and within minutes, you can receive a conditional decision.
If you receive conditional approval for your wedding loan, we'll schedule a meeting at your nearest branch. This meeting provides a wonderful opportunity for us to get to know you better and understand your financial situation. Feel free to share any questions or concerns you may have during the meeting.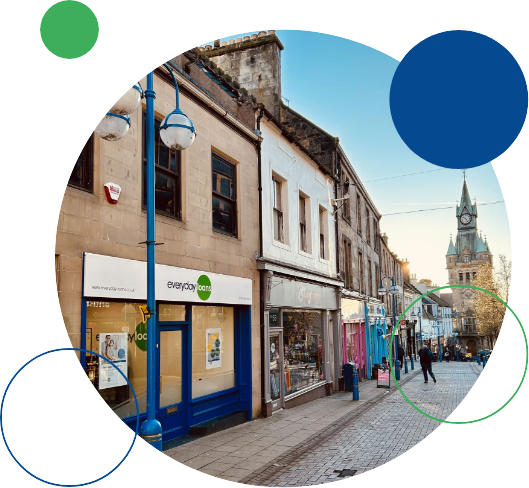 Tailored Local Lending
Our local branch staff have years of experience helping people get the loans they need. That is why we include a face-to-face meeting as part of the loan application process. This allows us to get to know you and your finances rather than just relying on a credit score. In the meeting, we will talk about how you manage your money, any financial obligations you might have and your personal circumstances. This allows us to offer loans to a wider variety of customers than lenders that just rely on automated credit scoring.
By the end of the meeting, we will know if we can provide you with a loan offer. If you have been successful, one of our team will explain the details of the loan and help you finalise your application.
Responsible Lending
At Everyday Loans, we strive to achieve the fairest lending practices. Our customers can expect us to be honest and upfront as well as keeping their data secure.
To ensure we are responsible lenders, we meet with each customer to discuss the details of their potential loan. This includes explaining the terms of the agreement and defining their obligations, as well as assessing their financial situation. All of our customer data is stored securely and processed in line with UK GDPR and DPA regulations.
During the meeting, we ask each customer about their finances. To ensure we get the most accurate information, we advise that our customers review their finances before they attend. We also suggest general reading about common loan terms like APR and credit score. We have also prepared a glossary of terms in the support section of our website to help explain some of this terminology. Our branches are also happy to help answer any questions customers may have.
We ask customers to let us know if their situation changes, such as an unexpected expense which may cause late payment. In cases like this, we can work together to provide support and find ways to help manage the loan.
If you are interested in applying for one of our unsecured loans, you can fill out our online application. To learn more about our loans, please contact your local branch.
What is a wedding loan?
A wedding loan is a type of financial product specifically designed to help individuals cover the expenses associated with their wedding ceremony and related celebrations.
It provides borrowers with a lump sum amount that can be used for various wedding costs, such as venue reservations, catering, decorations, and other related expenses. Borrowers can repay the loan over time through fixed instalments, making it easier to manage wedding expenses.
Whether or not you are eligible for an unsecured loan is determined by your credit score and a set of requirements that are provided by your lender.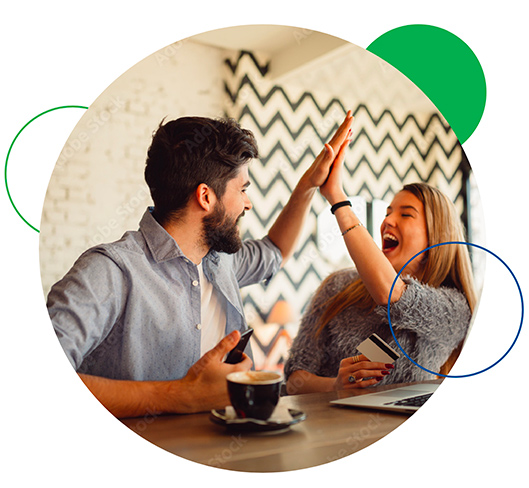 Types of unsecured wedding loans
The most common types of unsecured loans that could be used towards the cost of a wedding in the UK are:
Personal loans
Widely offered by various lenders, these versatile loans can be used for most purposes and usually do not require collateral, such as your car or home, to secure the loan.
Short-term loans
These loan agreements involve borrowing for a few months, often with very high APRs, and are commonly known as Payday Loans.
Loans for couples
Couples loans allow you and your partner to take a loan together. This means a lender can consider both your credit histories as well as your earnings when reviewing your application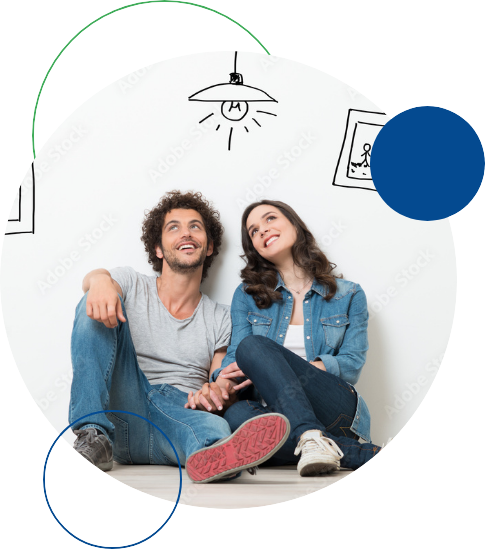 Who is eligible for a wedding loan
The basic eligibility requirements for a loan with us are:
You must be over 18.
Have a UK bank account.
Be a UK resident.
Here at Everyday Loans we specialise in providing unsecured loans to people with bad credit, or people that may have a thin credit history. We take into account a number of factors about your past, current and future financial situation when making a decision. As such, we can often help a wider range of applicants when it comes to providing a loan.
Pros and cons of an unsecured loan for a wedding
The pros of an unsecured personal loan are:
Unsecured loans are available to people with a variety of credit scores.
You do not need to put up an asset like your home as collateral.
The cons of an unsecured personal loan are:
APR tends to be higher than secured loans because there is no asset to secure the loan.
You may not be able to borrow as much as you would with a secured loan.
Failing to meet the terms of your loan could hurt your credit score.
Important knowledge on wedding loans
Taking an unsecured loan is a common way of accessing credit that can help you obtain things you need and achieve the goals you want. It's a serious commitment to enter into, of course, and that's why we are here to answer any questions you have and explain all the details of how it works with Everyday Loans.
Frequently Asked Questions
Annual percentage rate (APR) plays a crucial role in determining the total amount you repay over the loan duration. While calculating APR can be tricky, we actually explain it in our glossary or terms page. If you are still having trouble understanding APR or something else about your loan, rest assured, our dedicated branch team excels at transparently breaking down costs for loan applicants. We take pride in offering loans without any hidden fees, ensuring clarity regardless of your loan purpose, whether it's for a wedding or any other need.

Potentially. For new borrowers, a common challenge arises from their limited credit history. When you haven't engaged in previous credit agreements, such as having no credit card, mobile phone contract, mortgage, or any type of loan, lenders lack insight into your repayment habits. However, by consistently and responsibly repaying a loan over time, you showcase to potential lenders your ability and willingness to fulfil future loan obligations. This helps build your creditworthiness and enhances your prospects of obtaining loans in the future.

At Everyday Loans, we value your financial well-being, which is why we utilize soft search technology for our initial applications. This means that only you can see the application on your credit file, ensuring your privacy and peace of mind. It's important to note that we conduct a hard credit search only after you've accepted a loan offer from us. However, applying for other unsecured loans that do not use this technology could result in multiple attempts to obtain credit appearing on your report, potentially negatively affecting your credit rating and reducing your chances of obtaining a loan. We are committed to responsible lending and aim to protect your creditworthiness throughout the process.