Personal Loans
Everyday Loans is a direct lender offering personal loans across the UK. We provide loans to suit all credit types of up to £15,000. Apply today for a quick decision.
Representative Example: Borrowing £3,000 over 24 months at an interest rate of 71.3% p.a. (fixed), you will repay 24 monthly payments of £237.75 per month. Interest Payable £2,706. Total Repayable £5,706. Representative 99.9% APR.
Loans are subject to status and affordability. Terms and conditions apply.
Don't just take our word for it!
Everyday Loans for everyday people
Here at Everyday Loans, we believe that people are more than just a credit score. We approach each loan on a case-by-case basis, which allows us to build a better picture of your current and future financial situation. Our tailored and personal approach to lending allows us to help people who may have no credit history or may have had bad credit in the past.
If you need a loan to cover emergency costs or are looking for some extra funds to pay off a big expense, you can apply through our simple online form to see if we can offer conditional approval.
We offer unsecured loans from £1,000 to £15,000 over 18 to 60 months. We have branches across the UK and tailor a loan to best suit your specific needs. Our friendly staff can also help answer any questions you may have about our loans either during or after your application.
How it all works
To apply for one of our personal loans, simply fill out our simple online application form. We use soft search technology, so the application will only be visible to you if you are unsuccessful. If you get conditional approval, you will be invited to your nearest Everyday Loans branch to finalise your loan agreement.
Complete our online application form

Get an initial decision in minutes

Pop into your local branch to complete your loan
All of our loans are subject to status and affordability.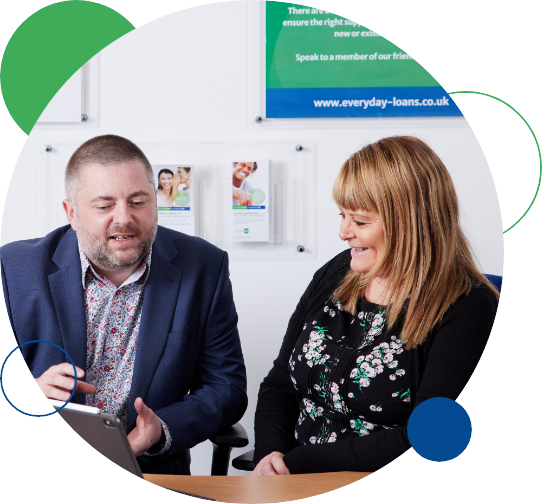 Why choose everyday loans?
We use Soft Searching Technology for applications, which means if you're unsuccessful, it won't appear on your credit file. We only conduct a hard search during a full application for credit.
We offer loans to those with a bad credit score. We do require all our borrowers to be over 18, UK residents and be able to afford repayments.
We're a direct lender, not a broker, plus there are no fees to consider your application.
We'll give you a conditional decision in just minutes.
You can borrow from £1,000 up to £15,000 for 18 months up to 60 months, for almost any purpose. Our loans can not be used for illegal purposes, to gamble or for business. Maximum APR 299.8%
Our application process uses soft search technology, which means when you initially apply for a loan with us, only you can see it. This is especially important for anyone who is already struggling with their credit, as more hard checks on your credit history could potentially affect your ability to secure a loan.
We also work hard to give you the best customer service possible. We have a 4.9 out of 5 score on Feefo based on over 2000 customer reviews. That's a lot of satisfied customers that we were able to help.
We achieved this excellent rating by providing a high-quality personal, local customer experience. We have branches across the UK with highly trained lending staff that will work with you to assist in your application.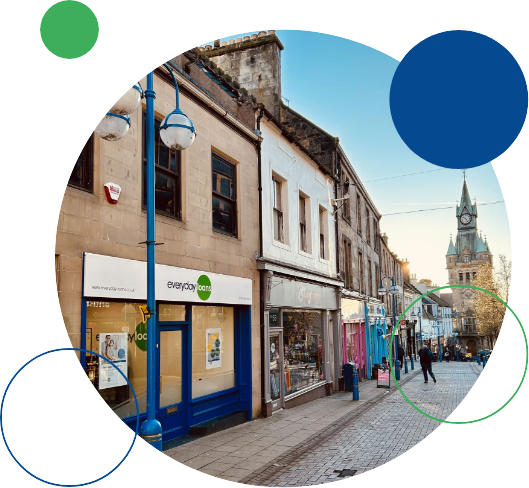 Tailored Local Lending
Our local branches are the backbone of our lending process. By having a face-to-face meeting with all our potential clients, we can put your credit history into context. During the meeting, we will talk with you about how you manage your money. We can also review your financial obligations and any unique circumstances you may have. This allows us to offer loans to a wider variety of customers than lenders that just rely on automated credit scoring.
By the end of the meeting, we will have determined if we are able to provide you with a loan. If you are approved, we will explain the details and finalise the loan.
Responsible Lending
Everyday Loans is committed to being a responsible lender. We strive to be honest and fair while ensuring your loans and data are safe and secure.
As part of the application process, we meet with you to discuss any potential loan. During this meeting, we will explain the terms of the agreement, answer any questions you have and complete a comprehensive assessment of your financial situation. All the data we collect as part of this process is stored in line with UK GDPR and DPA regulations.
During the meeting, we will ask some detailed financial questions. As such, we recommend you review the applicable information to ensure you can provide accurate answers. We have also prepared a glossary of terms to help explain some of the more complicated lending terminology like APR and credit score. Our lending expert will also be able to answer any questions that arise.
We ask customers to let us know if their situation changes. For example, if a customer is sick or struggling to make payments, we can work together to provide them with appropriate support and make arrangements to help manage the loan.
If you are interested in a personal loan from Everyday Loans, you can start your application now. Click the "Apply Now" button at the top of your screen and fill out the form to get a conditional decision.
What is a personal loan?
A personal loan is usually an unsecured loan. You borrow a lump sum of money which is paid back monthly with interest. The amount of money you borrow and the APR are set before you take the loan, so you know your monthly payments and the total cost of borrowing, assuming you keep to the terms of the agreement.
This is the type of loan offered by Everyday Loans, and it is one of the most common loans on the market.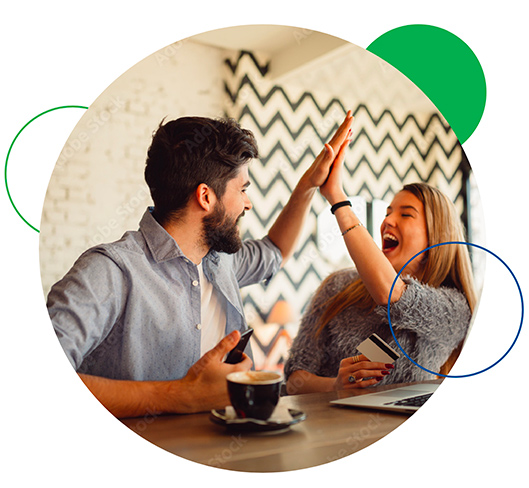 How do personal loans work?
Personal loans give you access to a lump sum of money that can be paid back over time without needing to be secured against an asset like a home or car.
To get a personal loan, you need to figure out how much you need to borrow. Once you know that, you can look at the personal loans that are available to make sure a lender is able to provide the right loan for you. For example, Everyday Loans allows people to borrow from £1,000 to £15,000.
The next step is applying for a loan. At Everyday Loans, we use soft search technology on all of our initial applications, so only you will see that you've applied. Once you have applied, we will come back to you with an initial decision on your loan.
If you receive conditional approval, we will set up a meeting at your local branch. If your loan is successful, you will receive your money, and you just need to make your payments on time.
What are the pros and cons of personal loans?
The pros of a personal loan are:
Access to funds. This means you get the money you need now rather than having to wait until you can save enough to pay an expense.
Custom repayment schedules. Everyday Loans works with you to find a repayment term that is suitable. This helps you keep monthly repayments affordable.
Personal loans are usually unsecured loans. This means if you are struggling to repay a loan, your home or other valuables are not at risk. Everyday Loans personal loans are unsecured loans, so you do not need to put up your home or car to secure the loan.
The cons of a personal loan are:
Higher interest rates. If the loan is unsecured, interest rates are typically higher to cover the extra risk to the lender.
Risks to your credit. If you do not pay on time or miss a payment, it could harm your credit score.
I have bad credit, can I still get a personal loan?
Potentially. Everyday Loans specialise in working with people who have bad credit. We understand that you are more than just a credit score. That is why we meet with all of our potential borrowers to better understand their personal circumstances. This helps us offer loans to people with a wide variety of credit issues.
How much can I borrow with a personal loan?
At Everyday Loans, we offer loans from £1,000 up to £15,000, and we have terms from 18 to 60 months. That means you can spread your repayments out over 5 years, making your monthly costs more affordable.
Other lenders may offer different amounts, but in general, unsecured personal loans are smaller than secured loans. This is because there is no asset used to secure a personal loan.
If you would like to apply for one of our personal loans, fill out our application today. We will give you a conditional decision at the end of the process, and if you are approved, we can set up a meeting at your nearest branch.
All you need to know about personal loans
Personal loans can be used for a wide variety of expenses and are some of the most common financing options in the UK. These loans can help you with everything from an unexpected expense to a planned purchase, and we keep our application process as simple as possible. Below we have answers to some of the most commonly asked questions about personal loans to help you better understand this type of financing.
Frequently Asked Questions
In the below section, we answer some of the most common questions about our joint loans. We want to make sure you have everything you need to feel comfortable with your financial decisions.
If you have any further questions, you can always contact us to discuss them, and our experts will do their best to clarify any issues you may be having.
If you fail to make your loan payments or you break some aspect of the loan agreement, this could negatively affect your credit score.

If you make your payments on time and abide by the loan agreement, this could reflect positively on your credit. It is just important to remember that there is no guarantee a personal loan will help or hurt your credit score.

APR stands for annual percentage rate, and it's essentially a calculation of how much you repay on a loan in total. Because loans are calculated using what is called compound interest, this is not a straightforward calculation, but essentially it is the total amount it costs you to borrow money each year written as a percentage. This can make calculating and understanding how much you have to pay for your personal loan a little trickier, and that's why our staff in our local branches can help with any questions you have about the payments on your loan.

There is no guarantee that you will be successfully approved for a loan with us. However, we specialise in working with people with bad credit or no credit history and use soft search technology in our application process, meaning applying won't negatively affect your credit file. To apply with us, you need to be over 18, living in the UK and have a UK bank account. If you have any more questions about your eligibility for a loan, please contact your nearest branch.