Joint Loans
A joint loan from Everyday Loans can help you get the financing you need, even if you have less-than-perfect credit. Apply today for up to £15,000.
Representative Example: Borrowing £3,000 over 24 months at an interest rate of 71.3% p.a. (fixed), you will repay 24 monthly payments of £237.75 per month. Interest Payable £2,706. Total Repayable £5,706. Representative 99.9% APR.
Loans are subject to status and affordability. Terms and conditions apply.
Don't just take our word for it!
Everyday Loans for everyday people
If you are looking for a joint loan with your partner or family member, Everyday Loans may be able to help. Our loans allow you to apply with another person so we can consider the credit of both people rather than just one person. This means you may be able to borrow a larger amount or get a better rate, depending on your credit history.
With our joint loans, you can borrow from £1,000 to £15,000 over 18 to 60 months to apply, click the apply now button on this page to get started.
The initial application is online and will not affect your credit score because we use soft searching technology. This means we do not run a hard credit check for this initial application, so only you will be able to see the search.
How it all works
At Everyday Loans we look at both loan applicants' credit futures as well as your credit history. This means if one or both people have had problems with credit in the past, we may still be able to offer them the financing they need. If you are interested in a loan, you and your co-borrower can fill out our application today, and we will get you a conditional decision without leaving a mark on your credit.
Complete our online application form

Get an initial decision in minutes

Pop into your local branch to complete your loan
All of our loans are subject to status and affordability.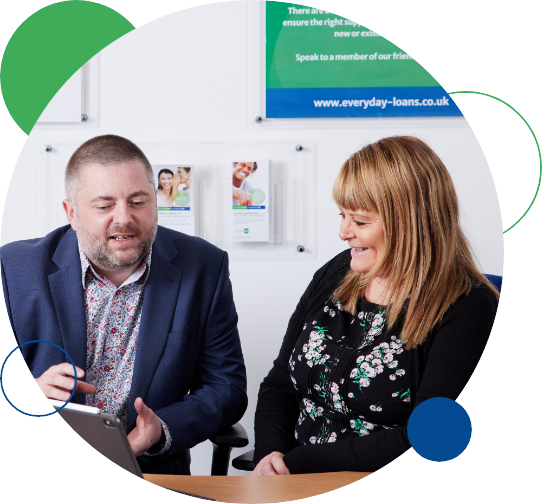 Why choose Everyday Loans?
We use Soft Searching Technology for applications, which means if your application is unsuccessful, other lenders will not be able to see that you have applied. We only conduct a hard search during a full application for credit.
We specialise in offering loans to people with bad credit. To be considered, you'll need to be over 18, a UK resident and be able to afford repayments.
There are no hidden fees, and we are a direct lender, not a broker.
We'll give you a conditional decision in just minutes.
Our loans have a minimum term of 18 months up to 60 months. You can borrow from £1,000 up to £15,000. Loans not for business, gambling or illegal purposes. Maximum APR 299.8%
Applying together could give you a better chance of being approved even if you or the other applicant have less than perfect credit. This is because there are two people who are responsible for payments. With two people applying, we can take into account two salaries and credit histories.
If your application is accepted, we can set up a meeting at your local branch. At the meeting, we will review your application and talk with you about your options. Then we can decide if we will offer you a loan.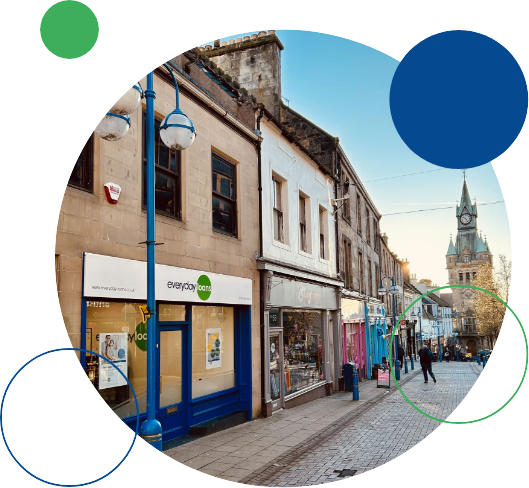 Tailored Local Lending
We have helpful staff at all of our branches that meet with each of our customers as part of the application process. This includes looking at credit history, money management, financial obligations and your unique circumstances. Our approach allows us to offer loans to a wider variety of customers than lenders that just rely on automated credit scoring.
In the meeting, we will determine if we can provide you with a loan offer. If so, we will explain the terms of the loan and fill out the necessary paperwork.
Responsible Lending
Everyday Loans is proud to be a responsible lender. We are fair and honest with everyone that applies while also keeping their data secure.
During our face-to-face meetings, we explain the terms of the loan agreement and complete a full financial assessment of each client. All of our customer data is stored securely in line with UK GDPR and DPA regulations.
To make sure we can give the best loan offers, customers should provide accurate information during the loan process. To help navigate loan-based jargon, we have created a glossary of terms to help explain some of the more complicated terminology in lending, such as APR and credit score. We're also able to explain the details of the loan during the meeting.
If a customer's finances change during the course of their loan, we request they let us know. For example, if someone is sick and cannot earn money, we can provide appropriate support for managing the account.
If you would like to apply for a joint loan, click the apply now button at the top of the screen.
What is a joint loan?
With a joint loan, you and another person you trust, such as your partner, a family member, or a friend, borrow money together. This type of loan may allow you to borrow more money than taking out a loan on your own. Both you and your partner sign the loan agreement and jointly take joint responsibility for making payments.
It is worth bearing in mind that you or your co-borrower can each be held responsible for paying back all the money if the other person is unable to. Failure to follow the terms of the loan could hurt both borrowers' credit.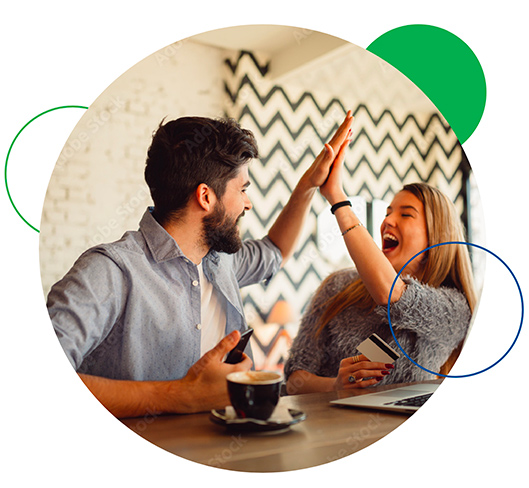 How do joint loans work?
Joint loans work just like a normal loan, except two people are applying and agreeing to repay the loan rather than just one. That means we will need loan information from both people applying through our online form. If we give you and your co-borrower conditional approval, you will both need to come to the face-to-face meeting at our local branch as well.
If we provide a loan, both parties will be responsible for making repayments, and if either person breaks the terms of the loan, it could affect the credit of both people.
If you are interested in a joint loan, Everyday Loans can help. All you need to do to get started is fill out our online application and provide some information, including your names, addresses incomes and a few other bits. Once we have that, we will run a soft credit check which only you will see on your credit history. Then, if you are eligible, we will discuss loan options with you.
What types of loans can be joint loans?
Loans that are frequently taken out jointly include:
Secured loans
A joint secured loan requires an asset such as personal property like your home or car. The lender can possess this secured asset to get their money back if you or your co-borrower become unable to make repayments.
Unsecured loans
With an unsecured loan, you don't need to provide a secured asset. Interest on the loan is usually higher because of the risk to the lender.
Mortgage
Most couples looking to buy their first home get a joint mortgage from a bank or building society. A mortgage is a type of secured loan, so the house can be taken back and sold if you can't keep up with the monthly repayments.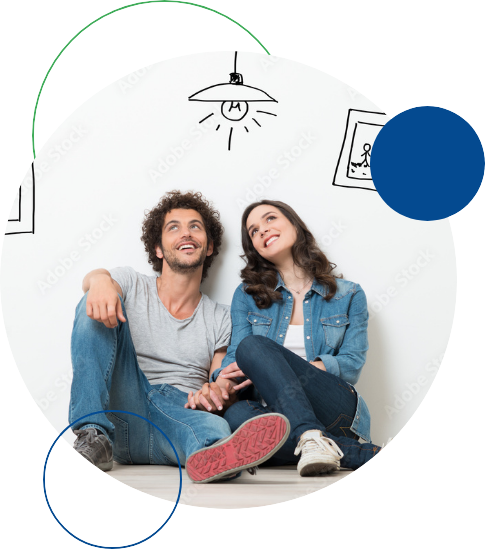 Who is eligible for a joint loan
Application requirements for a joint loan differ among lenders. Everyday Loans uses the below requirements:
You're 18 or over.
Able to afford repayments.
A UK resident.
We will also check other factors, like your credit score as part of the application process.
Will I be able to get a joint loan with bad credit?
Everyday Loans is a bad credit lending specialist. Simply having bad credit will not prevent you from getting a joint loan. We are able to consider your credit and income and also the credit and income of the person you are borrowing with. This means their credit may help make up for any issues.
If you would like to apply for a joint loan today, you can fill out our online application form.
What are the pros and cons of joint loans?
Advantages of a Joint Loan:
When Everyday Loans consider a joint loan application, we can take into account the earnings and credit history of both applicants. The loan repayments are more likely to be affordable if two incomes are used. Even if you've been turned down for an individual loan or have a bad credit history, Everyday Loans may still be able to help.
Furthermore, if one of you has a poor credit score or no credit history, it may be easier to get a loan together if the other person has a good credit rating.
Drawbacks of a Joint Loan:
The main disadvantage of a joint loan is that one party may have to cover all of the repayment.
This can be particularly problematic in the case of a relationship breakdown or an event affecting one person's ability to pay.
Missed payments can also damage both borrowers' credit. This could make it more difficult to get credit in the future.
If you have any more questions about Everyday Loans joint loans, you can contact your local branch for more information.
Frequently Asked Questions
In the below section, we answer some of the most common questions about our joint loans. We want to make sure you have everything you need to feel comfortable with your financial decisions.
If you have any further questions, you can always contact us to discuss them, and our experts will do their best to clarify any issues you may be having.
It only takes a few minutes to fill out our online form. Once we get your data, we review the information and go over any details with you. We will then provide you with a conditional decision.

If we conditionally approve your loan, we will set up a meeting with you and your co-borrower at our nearest branch. At the meeting, we will review your information and, if you are approved, provide you with a loan offer.

If you do not get conditional approval, you may not have met all of our prerequisites for a loan. For example, if you did not pass our affordability checks. In this case, you may want to review the information to make sure you meet our eligibility requirements.

If you are not offered a loan at your meeting with one of our representatives, you can speak with them about the reason behind the decision. They may be able to give you some more information on your specific case.

No. We do not have any hidden fees, and we do not charge to apply for one of our loans. You can speak with one of our staff to learn more about how our loans work.