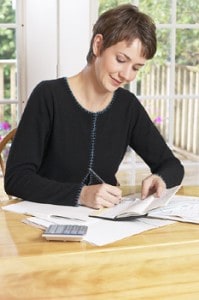 A loan guarantor is someone with good credit willing to take responsibility for the loan of another if they are no longer able to fund the agreed repayments. If the applicant has struggled with bad credit in the past, they may need a guarantor for loan applications. More often than not, mothers and fathers will act as guarantors for one of their daughters and sons – this is usually due to a lack of credit history or assets on the child's part. If the loan is paid on time, the guarantor won't have to do anything other than be involved in the application process. Anyone without access to a guarantor can still apply for an unsecured loan.
Guarantor guidelines
You can be a homeowner or have an active tenancy agreement to be a guarantor. Your tenancy agreement must be with a private landlord in the UK. If you're planning on acting as a guarantor for a friend or family member then it's important to weigh up the consequences. You should ask yourself a few simple questions prior to signing on the dotted line. One being 'is the friend or family member reliable, do they have a steady job and can they afford to make the repayments? Another being 'can you afford for them to slip up?'
how many times can you be a guarantor?
Generally, guarantors can only act on behalf of one loan at a time. This is certainly worth thinking about if you have two or more children that may require your help in the future. If a guarantor had to cover repayments for more than one loan in a month, they may struggle. Yet as soon as the loan is paid back in full, the individual is able to act as a guarantor for a loan again.
<>h2>The benefits
When it comes to the likes of buying a new house or purchasing a car, helping a friend or family member by acting as a guarantor can make all the difference. Loan guarantors help the main applicant with their better credit or assets. They are essentially just acting as an added bit of insurance in case of any problem. Guarantors and their co-borrowers are also protected by the rules and regulations of the financial conduct authority. That helps authorise and regulate loans, lenders and lines of credit so people in need are not taken advantage of by unscrupulous lenders. If the borrower will make sure they pay on time, this will be noted on their credit history and over time, improve their credit score.
Your role
Your role, in effect, is to give the chosen lender the confidence to lend to a certain individual. You may have your own business, an excellent credit score, a home or other assets. That will ensure that there is someone to cover payments if the person borrowing is unable to do so at any point during the agreement. It's important to remember that most guarantor loans or mortgages will require you to repay the entire amount should the initial borrower fail to do so.
Become a guarantor on a loan
If you are ready to be a guarantor, everyday loans can help. visit our guarantor loans page today and you and the person you will be getting a loan with can fill out our online application.